Workshops
Hands-on Interactive Workshops

Juggling & Balancing - Recommended for ages seven & up. Cherie & Dave have ways of teaching juggling so that even the biggest klutz will understand how to juggle by the end of the class and of course it is taught in a fun way! 
Cherie & Dave provide juggling scarves for beginners to start with and juggling balls for those who have quickly mastered the basics. For those who already have some juggling experience we have juggling clubs and can teach partner juggling.
Learn the art of balancing objects on your chin, nose & toes with peacock feathers.

Physical Comedy - Recommended for ages seven & up. Learn how to be funny without words, your body is your tool for story telling. 
Cherie & Dave cover facial expressions, exaggerated body movements and basic moves like tripping, double take, & roadrunner hop. Then put it all together in a physical comedy routine.
Each of these workshops run about an hour. If you're are interested in longer more in-depth clowning workshops contact us for more info. 
To book either of these workshops click here!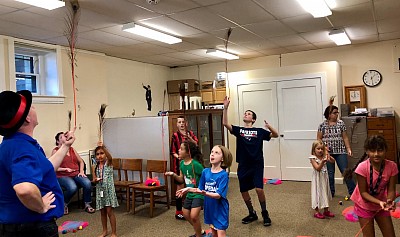 Jillian:
Please tell Dave and Cherie Gregg thank you for us!  Our students loved the workshop and we appreciate their effort of making the trip to Oxford to share the joy of entertainment. And thank you to you for coordinating the event - we loved it!
All best,
Katharine
Katharine McNair
Administrative Assistant
Ole Miss Theatre