About Cherie & Dave
Cherie & Dave's Red Nose World 
features professional clowns David & Cherie Gregg a married team who performed with Ringling Bros. and Barnum & Bailey® for 12 years. For the first 5 years as part of the esteemed Ringling Bros. "clown alley", entertaining thousands of families at a time, in arenas all over the country for 450 shows per year. 

In December of 2006 Cherie & Dave were honored to be offered the position of full-time Ambassadors of Laughter where they represented Ringling Bros. and Barnum & Bailey Circus in cities around the nation about four to six weeks before the circus arrived in town.

As Ambassadors of Laughter it was their job to bring free educational clown programs to hundreds of libraries, schools, Boys & Girls Clubs, YMCA's, fairs, festivals, and hospitals. Bringing a bit of the circus to children who may not be able to attend the big show.

After 7 years as Ambassadors of Laughter, and putting smiles on millions of children's faces, Cherie & Dave are ready to invite you into their Red Nose World!

Cherie & Dave's Red Nose World 2023 tour is booking now! Whether you choose their "Literacy Through Laughter" a highly entertaining & interactive story time, "Circus, Science & Silliness" a fun way to connect the dots from classroom science to circus practicality, or one of their Hands-on Workshops. You're inviting lots of fun and laughter to your library, school or youth group.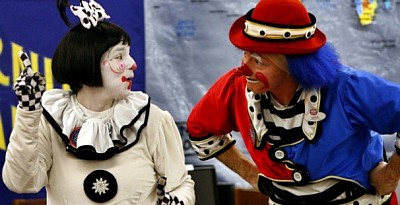 The life of married clowns