Circus, Science & Silliness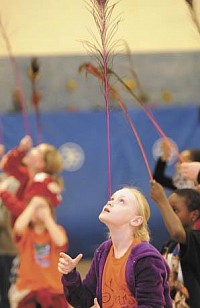 Hands on balance lesson
Cherie & Dave present "Circus, Science & Silliness"
A fun, interactive circus style show that demonstrates to children how the science they learn about in school is the same science Cherie & Dave use every day to perform amazing circus tricks. 
In this interactive program Cherie & Dave bring on stage around 10 to 15 children to try their hand at balancing peacock feathers. The whole group sees for themselves how this same concept that applies to the volunteers feather balancing, applies to Dave as he balances a spinning plate as high as the ceiling in addition to a stool and a chair on his chin.
In gyroscopic stability an audience volunteer is invited on stage to balance four spinning plates at the same time "and simultaneously".
The whole audience enjoys participating in a mesmerizing optical illusion making Cherie's head grow and shrink (the adults usually go nuts over this one). 
Newton's law of gravity & air resistance help explain why jugglers start with light scarves, move up to juggling balls, then finally juggling clubs. 

Cherie & Dave finish with an exciting juggling routine which involves a lot more social silliness, and culminates to passing six clubs around an audience volunteer! 

The whole show includes lots of social silliness so that the children are laughing while learning. Cherie & Dave challenge the audience to learn more about Circus, Science & Silliness in books they can find at the library. 
Stickers are given out and Cherie & Dave are available for photos for around 15 minutes.
To book this program click here!